There are two great veggie-centric events going on in Austin this weekend: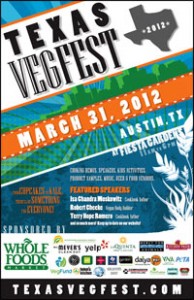 Saturday March 30, 2012 we will be volunteering at Texas VegFest at Fiesta Gardens from 11:00 AM to 6:00 PM. The event promotes and celebrates plant-based diets for a healthier future and features  more than 100 vendors, activities, and great local bands and speakers including one of my favorites, Michael Greger, MD of www.NutritionFacts.org. There is a recommended donation of $5.
Sunday March 31, 2012 we strongly encourage you to checkout the JBG Spring Potluck and Open House. The potluck runs from 4:00 PM to 7:00 PM and is a great chance to take your friends and family out to the farm and enjoy and share some great food. Free of charge, BYOB, and bring a dish to share. We will be preparing one of our favorite recipes from The Authentic Peruvian Vegetarian Cookbook for everyone and the farm will be providing free heirloom tomato transplants for all in attendance!